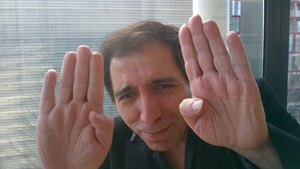 MOHSEN MAKHMALBAF
Born 1957, Iran. Filmmaker, novelist, screenwriter, editor, producer, human right activist. In his teen years, he fought against the dictatorship in Iran and was injured by bullet shots by the police and spent some five years in prison as a political prisoner. He lost the use of his legs as a result of torture and underwent numerous operations before he could manage to walk again. He started story writing whilst in prison and turned to filmmaking following his release. He is, however, still fighting for human rights in Afghanistan, Tajikistan and Iran. In 2007 the Iranian secret police planted a bomb which exploded at the scene where he was filming in a bid to kill him, but he managed to survive. Those claiming responsibility for the explosion sent him a message: 'This bomb was in retaliation for taboo-breaking in the two films titled "Sex and philosophy" (Tajikstan2005) and "Scream of the ants" (India2006)'. Makhmalbaf has written 27 literary and story books and directed 18 feature films, 3 documentaries and 4 short films in six countries: Iran, Afghanistan, Turkey, Pakistan, Tajikistan and India. The subject of Makhmalbaf's works is man and his agonies. He has been awarded an Honorary Doctorate in Literature by St Andrews University in Scotland 2010, Honorary Degree of Doctorate of Cinema from Nanterre University in France 2010 as well as more than 40 international awards .Kandahar (Afghanistan), the winner of the Grand Prize from Society of Churches of the World in Cannes film festival 2001, was chosen as one of the best 100 films in the history of world cinema in 2001 by Times magazine and broke the record for the best selling Asian film in the history of cinema in Italy and was simultaneously screened in 107 Italian cinemas in 2001. The Cyclist (Pakistan – Iran) won the best film award in Rimini – Italy in 1989 and the best Hawaii – America film in 1991, which is amongst the most adored films of Makhmalbaf in the world cinema.Salam Cinema (Iran) as a critic of authority was praised in Cannes Film Festival 1995, winner of the best film in Munich International Film Festival, Germany 1996 is now taught globally at schools of cinematic arts as a novel technique in documentary & social cinema filmmaking.Gabbeh (Iran), poetical film in official section of Cannes film festival 1996, was elected by Times magazine as one of the best ten movies of the 90's. It was also chosen as the best Asian film in Singapore Film Festival in 1997 and the best Tokyo Artistic Film (Japan 1996), and the winner of the International Critics Award and the best director at Sitguess Festival in Spain, 1996. A Moment Of Innocence (Iran), praise for non-violence, is one of the ten best films of the 90's as chosen by the heads of the world Film Festivals in 2000 and the winner of Special Jury Award and the Locarno Festival Youth Golden Award in 1997. The Afghan Alphabet (Iran – Afghanistan), documentary, was the winner of the best film at Document Art Film Festival in Germany as well as the winner of the Thessaloniki Honorary Humanitarian Award in Greece. This film succeeded to change the law in favour of Afghan children refugees in Iran who were banned from attending schools and finally following the release of this film during the presidency of Khatami, the democratic president of Iran, school doors were opened to half a million Afghan children after eight years and some 1200 young Afghan refugees were accepted in Iranian universities. Makhmalbaf explains: "The movie, Afghan Alphabet, proved that the cinema can lead to great social upheavals and had I been born to make just this one film, it would have been worth it." Makhmalbaf's books are written in Persian, and some of them have been published in various languages, such as 'The Crystal Garden', which is a critic of the post revolutionary state of Iranian women, in English, French, Italian, Greek and Persian...and 'Buddha was not demolished in Afghanistan, it collapsed out of shame' about the tragic events in Afghanistan during the Taliban regime in Japanese, French, Portuguese, Korean, Hindi, Italian, Greek, English and Persian… Makhmalbaf taught cinema to his family. Boston University awarded him with the prize of the Museum of Fine Arts for his novel technique. He was also awarded the Prize of The Golden Cycle at Vesoul Film Festival in France. The top festivals in the world such as Cannes, Venice, Berlin endorsed what he had taught. In 2005 when Ahmadinejad came into power, Mohsen Makhmalbaf left Iran as a protest against the Iranian dictatorship and at present lives in exile with his family. He has been living in Afghanistan, Tajikistan, India and France in recent years.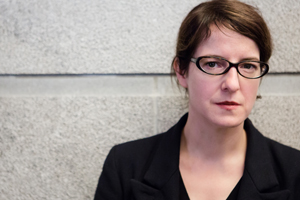 URSULA MEIER
URSULA MEIER (1971, Besançon, France) following several years of studying the art of directing at the Belgian Institut des Arts de Diffusion (IDA), Ursula worked as an assistant director to Alain Tanner. She made her directional debut in 1994 with diploma short Le songe d'Isaac. The movie attracted the attention of many international festivals and made possible the next, totally different movies, such as Tous a table, Des épaules solides, Autour de Pinget and Pas les flics, pas les noirs, pas les blancs. In 2008 her full-length feature film debut Home was premiered at Cannes Critic's Week and received numerous awards, incl. 3 Swiss academy awards in main categories and 4 Cesar nominations as well. Her latest feature L'enfant d'en haut earned Silver Bear award of the 62nd Berlinale.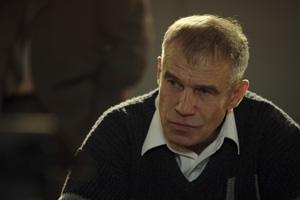 SERGEI GARMASH was born in Herson on the 1st of September 1958. When he was a child he dreamt about going to a marine college but instead, having completed 8 years of education at school, he went to the Dnepropetrovsk college of theatre and graduated as a puppet theatre artist. He worked at the Herson puppet theatre, served in the army for two years. In 1980 when he was discharged from the Army he went to Moscow and entered the MKhAT school studio (class of I.M.Tarkhanov). In 1984 having finished the MKhAT school studio he joined the company of the "Sovremennik" theatre, where he continues to work up to the present moment as one of the leading actors. Among the parts he played on stage are: Lopakhin ("The Cherry Orchard"), the elder brother ("The Karamazovs and Hell"), Satrapyuk ("Steep route"), Alfons ("Three Friends"), Mikhail ("Murlin Murlo"), captain Lebiadkin ("Demons"), Ilyin ("Five Evenings"), Famusov ("Woe from Wit"), Mikhail Gromov ("Happy Holiday") and others.He debuted on screen in 1984 with the leading role in "Detachment". His most prominent early works are "Someone Else's White and the Speckled" (also known as "Wild Pigeon") (1986), "Moonzund" (1987), "Armavir" (1991), "Demons" (1992). On the whole he played more than a hundred roles in films and TV series and has worked with leading Russian and European directors: Vadim Abdrashitov, Sergey Bodrov, Andrzej Wajda, Jiří Menzel, Pavel Lungin, Nikita Mikhalkov, Sergey Solovyov, Igor Talankin, Vladimir Khotinenko, Yuri Ozerov etc. The parts of militiamen in "The Voroshilov Shooter" (1999) and the TV series "Kamenskaya" (2000-2003) brought him fame and the love of the audience. Garmash in "The Tender Age", "Lover", "Ours", "Hipsters", "12", plays characters who are tough, straightforward, even cruel but are always convincing: Garmash is a triple winner of the Award of the National Academy of Cinema and Science of Russia, four-times-winner of the Nika award, People's Artist of Russia. He was awarded the Order for the Merits to the Republic of Poland.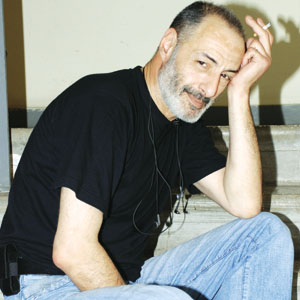 ZURAB KIPSHIDZE
ZURAB KIPSHIDZE was born on the 10th of August 1953 in Tbilisi. In 1970-1971 he studied at the Tbilisi Shota Rustaveli Theatre Institute. In 1976 he graduated from VGIK (class of S.A.Gerasimov, T.F.Makarova). Since 1976 worked at the Tbilisi Theatre of Film Actors. His acting is characterized by subtly nuanced psychological rendering, noble style, the sense of serious spiritual work done by his characters. Among the most popular parts he played are those in "Mothers and Daughters" (dir. S.Gerasimov), "Legend of the Suram Fortress" (dir. S.Paradzhanov), "Voyage of a Young Composer" (dir. G.Shengelaya), "Time of the Dancer" (dir. V.Abdrashitov). He played one of the leading roles in the film "Everybody Is Gone" (dir. G.Paradzhanov) which was included in Competition at the 34th MIFF. Since 2010 he hosts the program "History Impersonated" at the "First Caucasian" TV channel.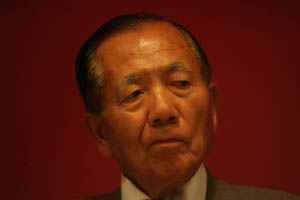 KIM DONG-HO
KIM DONG-HO served as Festival Director of the Busan International Film Festival since its launch in 1996. In 2010, he was made Honorary Director upon his retirement from the post. Mr Kim has been awarded many cultural medals in recognition of his achievements and efforts in the cultural development of the Republic of Korea, as well as in international society. In 2000, he was awarded a Busan Culture Award and later in the same year was acknowledged with a Chevalier de l'ordre des Arts et de Lettres from the French government. Since 1997 Kim Dong-ho has served on the juries of many International Film Festivals including Rotterdam (as Jury Chairman), India, Buenos Aires, Las Palmas, Venice (as Jury Chairman for the NETPAC Award), Singapore, Seattle, Bangkok, Hawaii and Sochi, in Russia. Prior to founding the Busan International Film Festival, Mr Kim majored in Law at the Seoul National University and received an MA in Administration at the Hanyang University. He filled various government posts at the Ministry of Culture and Tourism (formerly known as Ministry of Culture and Information) for 27 years. He also served as president of the Korean Motion Picture Promotion Corporation and at the Seoul Arts Center. He worked as the Vice-Minister at the Ministry of Culture and Tourism. His book 'History of Korean Cinema Policy' was published in 2005.