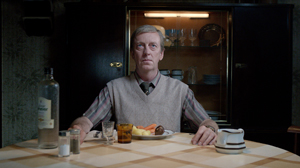 MATTERHORN
dir. Diederik Ebbinge, Netherlands, 2013, 87'
In a small religious village leads Fred a lonely existence. His wife has died and he has lost contact with his son. The only thing he does is go to church and talk with the neighbors. When a stranger suddenly pops up in the village, Fred is getting the color back in his life.
Diederik Ebbinge ( 1969, Enschede) studied at Theatre and Cabaret academy in Amsterdam and after graduating founded the popular theatre company De Vliegende Panters along with several classmates. He has been seen as an actor in several Dutch films and TV series and has also directed several short fiction films. Matterhorn is his feature debut.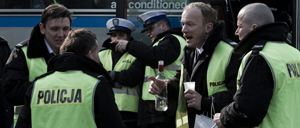 DROGÓWKA
(TRAFFIC DEPARTMENT) , dir. Wojtek Smarzowski, Poland, 2013, 118'
The story of seven policemen who are colleagues as well as friends, sharing a fondness for parties, sports cars, and business. Their enclosed world seems to be running smoothly. Everything changes after one of them dies under mysterious circumstances. Sergeant Ryszard Królis accused of murder. Trying to clear his name, he discovers the truth about criminalties in the top ranks of government.
WOJCIECH SMARZOWSKI (1963, Korczyna, Podkarpackie, Poland) garduated in cinematography from The National Film School in Łódź. Worked as DOP on several documentary films. His directional feature debut The Wedding earned special jury mention at the Karlovy Vary International Film Festival and Youth Jury award at the Locarno FF. Smarzowski's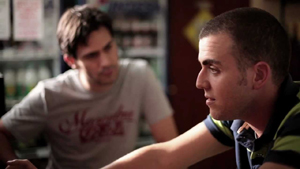 SPAGHETTI STORY
dir. Ciro de Caro, Italy, 83', 2013
Nowadays, four Italian young adults longing to change their lives, yet stuck upon the shelf: Valerio and Kookie, dreaming of their big break, yet still not being independent; Giovanna and Serena, pretending to be adult, yet never having dared to live. Then, the encounter with Mei Mei, a young Chinese prostitute, shines a light on the truth: the gain of one's freedom is, above all, an inside job.
CIRO DE CARO (1975, Rome) directed many national and international adverts, and some short films for which he won several awards. SPAGHETTI STORY is his first feature film.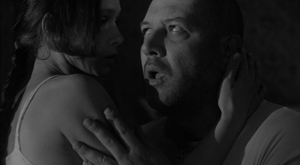 ROL'
(The Role), dir. Konstantin Lopushansky, Russia, 2013, 132'
The Role is about a brilliant actor in revolutionary Russia who takes on the greatest role of his life - the role of another man. Influenced by the ideas of symbolism and the Silver Age, he decides to slip into the life of his doppelganger – a revolutionary leader in the new Soviet Russia. First intrigued, then obsessed, he flings himself into the role and lives it to the hilt… even when the play of the life he is writing heads towards a tragic finale. Based on true incidents in the lives of Russia's symbolists, this gripping film explores how far one man will go for the role of a lifetime.
KONSTANTIN LOPUSHANSKY (1947, Dnepropetrovsk, USSR) is rightfully considered the spiritual and esthetic successor to Andrei Tarkovsky. He is also one of the few Russian directors who is indisputably an auteur. He has won awards at more than 30 international film festivals (including the international Ecumenical Jury Award twice – at the Berlinale in 1995 and at the Moscow Film Festival in 1989). Lopushansky's first full-length film, Letters from a Dead Man (1986), brought him world-wide fame. It was screened at more than ten international festivals, including Cannes in 1987. Then followed The Museum Visitor (1989) which won numerous festival awards includes Gran-prix of the XVI MIFF among others. His filmography includes: Russian Symphony (1994), The Turn of the Century (2001) and The Ugly Swans (2006).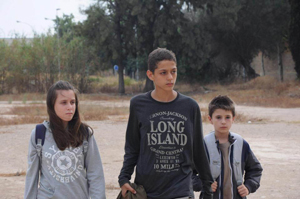 LOS CHICOS DEL PUERTO
dir. Alberto Morais, Spain,
78', 2013
Miguel makes the journey that his grandfather cannot make because he is locked up by his own family. The mission is very simple, go to a funeral and leave an army jacket on the grave of an old man, a friend of his grandfather. Miguel, accompanied by Lola and Guillermo, leaves that island of cement that is the Nazareth neighborhood. He wanders the outskirts of Valencia, looking for a cemetery and faces a deserted city.
ALBERTO MORAIS (1976, Valladolid, Spain) studied at several places in Spain, among others scriptwriting, film history, direction and camera. Together with three colleagues he co-founded the production company Un lugar en el cine S.L. With this production company he has produced two shorts and the documentary Un Lugar En El Cine (2007) about the artistic and social heritage of Neorealism, that proved a lasting inspiration to film makers to make their own socially committed cinema. His feature debut Las Olas earned the Golden George of 33 MIFF as well as FIPRESCI award and Silver George for Carlos Álvarez-Nóvoa for his part.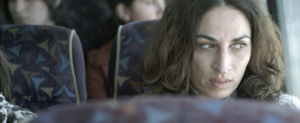 ZERRE
(PARTICLE), dir., Erdem Tepegöz , Turkey,
2012, 80
How much space does Zeynep take up in this vast universe? This is a city brimming with the struggling and the unemployed; aren't their lives a bit like the infinite, tiny particles flying through the air? Zeynep is already trying hard to make ends meet when she gets fired from her job at a textile mill. The Particle follows her as she searches for a job. We follow her in and out of workspaces. Zeynep's world – the streets and homes in Tarlabaşı – are dark and suffocating.
ERDEM TEPEGÖZ (1982, Izmir, Turkey) studied Economics at the University of Dokuz Eylül in, Izmir. He completed a filmmaking workshop at Prague Film School and has worked as an assistant director. He holds numerous national and international awards as well as festival experience. He directed commercial films as well as 3 award-winning short films. He currently resides in Istanbul. Zerre is his first feature-length movie.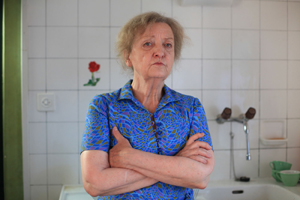 ROSIE
dir. Marsel Gisler, Switzerland,
106', 2013
Lorenz Meran, a successful gay author suffering acute writers' block, has to leave Berlin and return to eastern Switzerland to provide care for his aged mother, Rosie. When he finds himself confronted with the fact that fun-loving Rosie refuses both outside assistance and a care home, he discovers that he is stuck fast in his small home town of Altstätten. But it is not only his mother's battle against being dictated to and losing her dignity that he is struggling with. It's also his own midlife crisis. And when long-kept secrets are suddenly revealed under the tensions of family dynamics, Lorenz almost fails to notice that love is knocking on the front door of his parent's house…
MARCEL GISLER (1960, Altstätten, Switzerland) studied Drama and Philosophy at the Freie Universität Berlin. In 1985 his feature debut Tagediebe earned Silver Leopard award for Best First Workd. His filmography also includes festival awarded Schlaflose Nächte (1988), Die blaue Stunde (1992) and F. est un salaud (1998). Since 1985 works as producer, screenwriter, director and as lecturer at various film schools in Switzerland and Germany. His latest film Rosie recieved six nominations for Swiss film academy awards.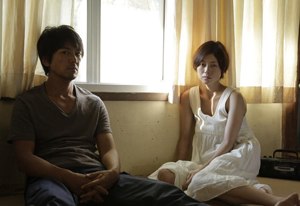 SAYONARA KEIKOKU
(THE RAVINE OF GOODBYE), dir. Tatsushi Ômori
Japan,2013, 117'
In a valley, with a dense growth of trees, a baby is killed. The baby's mother Satomi is arrested as the prime suspect. The police also learn that Satomi is involved in a romantic relationship with her next door neighbor Ozaki. The information was provided by the neighbor's lover Kanako. Meanwhile, magazine reporter Watanabe, who is covering the story, discovers the shocking fact that Ozaki was involved in a rape case 15 years ago. Even more shocking, the victim in the rape case is Kanako.
TATSUSHI ÔMORI . Director, scriptwriter, actor. Born September 4, 1970 in Tokyo, Japan. The eldest son of the famous butō dancer and actor Maro Akaji. While studying at university Ômiru began making Super8 mm films. His controversial feature debut "The Whispering of the Gods" (2005) was screened outside the traditional network in a self-built construction near Ueno Park in Tokyo and ran for months. His movies were screened at numerous leading international film festivals. "A Crowd of Three" (2010) won the prestigious "Kinema Jumpo" award to the best supporting actress. "Tada's Do-It-All House" was named number 4 in the "Kinema Jumpo" list of best Japanese movies of 2011. "The Ravine of Goodbye" is his 5th feature.

KOMA
(DISORDER), dir.Archil Kavtaradze, Georgia , 2013, 90'
A young man is arrested and put into prison for a car accident. His two victims in a coma get into a hospital. The director from his own tragic experience shows us the reverse side of Georgia. Where is the edge to cruelty and sadism, how much can a person bear in a world of absurd injustice and total ridicule? What can you do when you confront the system?
ARCHIL KAVTARADZE (1981, Tbilisi, Georgia) graduated from the Faculty of Fine Arts and Film Directing at Tbilisi Javakhishvili University (Kokochashvili's workshop, 2002). In the same year, Archil directed his diploma work "Untitled". In 2003 the film won the Grand Prix, and the prize for the best screenplay at the international festival "Cecily" in Tbilisi. Archil's first feature film Subordination premiered in 2007 became one of the most viewed films in the recent history of Georgian cinema. Disorder is his second feature. Archil Kavtaradze's films are based on true stories, which he personally has lived through.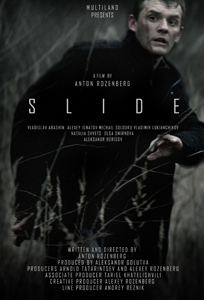 SKOLZHENIYE
(SLIDE), dir.Anton Rozenberg, Russia, 2013, 117
The main characters of "Slide" are above the law. They are a group of police investigators wallowed in criminal activities. But the up-and-running criminal scheme worked out by the experienced team begins to fail. There appears to be a mole reporting directly to the FSB. When Pepel finds himself in a life-threatening situation he starts thinking about his existence for the first time ever. Once he begins to think he can't go back to his former self. The team begin to suspect that he is the mole. The former co-workers turn into mortal enemies.
ANTON ROSENBERG (1977). In 2000 graduated from KGU, department of Law and History. Since 1998 works in advertising. Since 2004 works as a director of commercial videos. Among his most well-known videos are commercials for "Orbit", "Gazprom", "Troika-Dialog", "Beeline" etc. Prizewinner of several festivals of commercials. In 2008 graduated form Alexandr Mitta's courses for film directors. In 2010 wrote and directed a 30-minute criminal drama, which was later developed into the feature debut "Slide".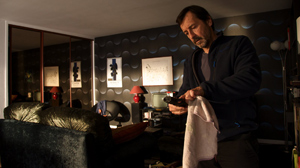 L'AUTRE VIE DE RICHARD KEMP
(Back in Crime), director: Germinal Alvarez,
2013, 102'
When Police Captain Richard Kemp investigates a murder, strange similarities to the case bring to mind Pierced Ear, a serial killer who he hunted in vain at the beginning of his career. His only witness is Hélène Batistelli. But a mysterious event sends Kemp back twenty years into the past, to May 1989, the day before the first murder was carried out by Pierced Ear. Kemp tries once again to stop murders from taking place, but a young cop complicates things for him: this ambitious detective is none other but himself, twenty years younger... Hélène, who knows nothing about him, will cross his path...
Germinal Alvarez graduated graduated in directing from the Conservatoire Libre du Cinéma Français in 1993. He made his first short film Le Silence des K in 1997, followed by Mekanique (1999) and Jour blanc (2004). He then directed numerous episodes of the 3D animated series Skyland (2006). Back in Crime is his feature debut as a co-writer and director.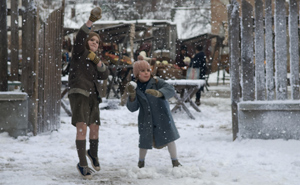 MAMAROŠ
dir. Momčilo Moma Mrdaković , Serbia, Germany, France, Hungary
105', 2013
Middle-aged cinephile and film projectionist Pera still lives with his mother - and best friend - Mara, in Belgrade. It's 1999 and when NATO bombs start raining down on Serbia, the two of them become refugees. After a surreal journey, they end up in New York, where Pera realizes that he can no longer do the old job he loved so much. While he and Mara were struggling to survive, the new age of digital projection was born. Then Pera stumbles upon some discarded projectors and his new mission in life becomes clear: he will travel around and show people the magic of Real Cinema - the magic that can only be created by celluoid, mechanical projectors, the silver screen and flickering light.
Momčilo Moma Mrdaković graduated from Belgrade University in Architecture. He became a Second Unit Director/Assistant Director in many projects, including Underground by Emir Kusturica. He also wrote screenplay for the film It's Me the Hero, winner of 2001 Hartley–Merrill International Screenwriting Prize in Los Angeles. Mamarosh is his directional debut.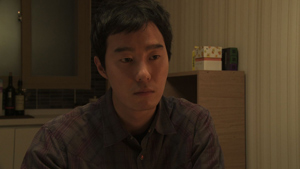 LEBANON EMOTION
director Young-heun Jung,
106', 2013
A man chases a woman. She runs by and then meets another man. The film shows desolate sights. The director's intention to show indescribable emotions comes up in the frames.
Jung Young-Heon graduated from Korean Academy of Film Arts. Worked as an assistant director and director of cinematography on commercials. His short Hard-boiled Jesus won Best Director Prize at Korean Short Film Competition of 2012 Jeonju IFF. His feature debut Lebanon Emotion won a CGV Movie Collage Prize at Jeonju IFF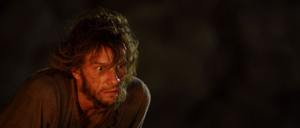 IUDA
(JUDAS) director: Andrey Bogatyryov,
108', 2013
Judas, a seasoned thief, finds himself in the market square where Christ is giving a sermon and his apostles are collecting alms. He follows them and steals their money, only to be caught red-handed. Nevertheless, the Teacher forgives him. What is more, He invites the thief to become one of His followers and offers him a position as the group's treasurer. Shocked by Christ's unexpected offer, Judas decides to join the apostles, if only to figure out what is going on. He gradually starts to comprehend Christ's message, but feels that the apostles are blindly following their teacher. Judas argues with them, and tries to defend his right to divine the truth of God. But when he fails to make them understand, he realizes that Christ's teachings may sink into oblivion without benefiting humanity. His solution is to betray Christ. "By killing a man, have I not saved a God?"
ANDREY BOGATYREV (1985) graduated from the Russian State University of Cinematography (VGIK) in 2005 with a degree in documentary filmmaking. He joined Rossfilm in 2006. He has directed 10 documentaries and television programs. In 2009, Andrey wrote the soundtrack for the film Friday. 12. In 2011, he directed his first full-length feature BAgI [BUggY], which was accepted into the Moscow International Film Festival's Perspectives competition, where it earned a Special Jury Prize. The film was also screened at a number of other festivals, and has received several awards. Andrey is the lead singer of the rock band tOt.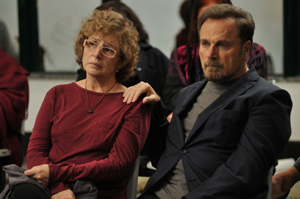 A MEMÓRIA QUE ME CONTAM
(Memories they told me)
Director Lúcia Murat
Brasil, 100', 2012
An ironic drama about defeated utopias, terrorism, sexual behavior and the creation of a myth. A group of friends, who resisted the military dictatorship, and their children will face the conflict between the daily life of today and the past when one of them is dying.
Lúcia Murat (1949, Rio de Janeiro, Brazil) was member of the Brazilian leftist "guerrilha" in the hardest times of military dictatorship in Brazil (1968-1979). She was arrested and tortured in prison, and this experience is highly influential in all of her work. She debuted in 1988 with semi-documentary Que bom te ver viva, which had its international premiere at the Toronto Festival and revieved forst award at the Brasília Festival. The political concern returns in Doces poderes (1996), this time under the point of view of the marketing of election campaigns. The film had its premiere in 1997 at the Sundance Festival and in the same year, was screened at the Berlin Festival. In 2000 she released Brava gente brasileira, about the relation between colonizer and the Indians in the countryside of Brazil. In 2003 she filmed Quase dois irmãos - a political drama about the conflict between the middle class and the slum in three different times and situations - which gave her several awards, among them best direction and best Latin American film by FIPRESCI in the Rio Festival of 2004, best film at the First Amazonas Film Festival and best film at the Mar Del Plata Festival 2005. At the Rio Festival of 2005 was the premiere of the documentary O olhar estrangeiro and, in the 2007 edition, Maré, nossa história de amor.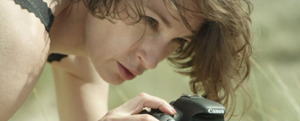 DELIGHT
Director Gareth Jones , UK, 101', 2013
Echo goes looking for her one-time lover and comrade-in-arms, only to fall into a passionate relationship with his son. But sexual abandon triggers the unravelling of a trauma she has long buried for the sake of her children, which now threatens to tear their lives apart. Can eros bring a healing of trauma, or merely its repetition?
Gareth Jones (1951, London) is the son of BBC Foreign Correspondent Ivor Jones with whom he travelled to Germany, India and Lebanon. He studied at Westminster School, London, St John's College Cambridge and the Guildhall School of Music and Drama, before training as a theatre director with Prospect Theatre Company in the 70s, where he directed Shakespeare, Brecht, Strindberg and Chekov. He trained as a television director in 1980 with HTV Wales, moving later to Granada TV where he directed Coronation Street (1981) and award-winning comedy drama Brass (BPG Best comedy 1983). Other directing for the BBC/C4 includes The Trial Of Klaus Barbie (1987), Watch With Mother (1988), Seeing In The Dark (1989), award-winning series Shalom Salaam (1989) and documentary Born Of The One Father (1991) for C4 and TF1. Delight is the second part of D-trilogy: Desire (2009), Delight and Denial.