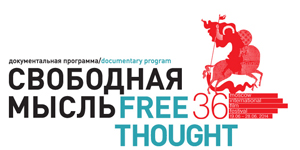 The documentary program of the 36th Moscow International Film Festival will be show starting June 20th at the 2nd Hall of Oktyabr multiplex theatre. It includes the competition and the non-competitive section Free Thought, presenting the best of the international documentary filmmaking of the last year. Curators of the documentary programs are Sergey Miroshnichenko and Grigory Libergal.
This year's competition presents 8 documentaries. The winner will receive the silver statuette of Saint George and $5000 from Ostrov Studio and Watching&Discussing TV show (Kultura Channel). The Free Thought showcases 15 films this year including the premiere of Godfrey Reggio's film Visitors, to be personally presented at the Festival by its famous author.
This year the Documentary Jury is chaired by the prominent British director Sean McAllister, winner of numerous awards at such festivals as Sundance, Yamagata, BIFA, etc. The Jury also includes the founder and director of the most important Latin American doc festival É tudo verdade in Sao Paulo Amir Labaki and Russian director Alina Rudnitskaya, winner of many festivals both home and abroad.
Competition program:
Scheherazade's Diary
dir. Zeina Daccache, 80 min, Lebanon, 2013
L'experience Blocher / The Blocher Experience
dir. Jean-Stéphane Bron, 100 min, Switzerland, France, 2013
Deep Love
dir. Jan P. Matuszynski, 86 min, Poland, 2013
Web Junkie
dir. Shosh Shlam, Hilla Medalia, 74 min, Israel, USA, 2013
The Green Prince
dir. Nadav Schirman, 99 min, Germany, Israel, UK, 2014
The Armstrong Lie
dir. Alex Gibney, 124 min, USA, 2013
Cardiopolitika
dir. Svetlana Strelnikova, 63 min, Russia, 2014
Happiness
dir. Thomas Balmès, 80 min, France, Finland, 2013
Documentary competition was reinstated to the MIFF program in 2011. Its goal it to present documentaries that are capable to appeal to the mass audiences.
In previous years the Jury was headed by president of the Directors Guild of America Michael Apted, directors Paul Paulikovsky and Sergei Dvortsevoy.
The documentary awards went to Danfung Dennis' Hell and Back Again, Malik Benjelloul's Searching for Sugar Man and Pawel Lozinski's Father and Son.
Curators of the program Sergey Miroshnichenko and Grigory Libergal said in the introductory article "Our competition brings together strong and prominent directors like Alex Gibney with The Armstrong's Lie, Jean-Stéphane Bron with The Blocher's Experience , Thomas Balmès, with Happiness and other famed directors whose films are be shown out-of-competition - Errol Morris, Michael Glawogger, Godfrey Reggio. All of them are analyzing lies, the shaky swamp of falsehood. And we believe that after seeing this program our audience will think again about what kind of society we should build together on this planet. It is important to defend truth and freedom and truth and to fight lies and the lack of freedom".
The Free Thought first appeared in 2006 and became a permanent fixture of the Festival. It includes winners of the most prominent film festivals and contests, as well as the box-office leaders. Special event of the festival is the visit of prominent director Godfrey Reggio who will present his latest work The Visitors.
Robert J. Flaherty legendary "Moana of the South Seas" will have its world premiere in the sound version, prepared by his daughter Monica and restored for 2K-projection by experts that include Bruce Posner who will present the film in person.
Other highlight is the screening of Workingman's Death, a masterpiece of Michael Glawogger who died during the pre-production of his new project. His latest work, the 3D, Wim Wenders' supervised Cathedrals of Culture will also be shown on Moscow. In this project Michael Glawogger directed the novel about Boris Yeltsin Presidential Library in St.Petersburg. Other parts of the film are directed by Wim Wenders, Robert Redford, Michael Madsen, Karim Einoz and Margareth Olin.
Out-of-competition program «Free thought»:
Twenty feet from stardom
dir. Morgan Neville, 91 min, USA, 2013
Academy Award 2014 - Best Documentary Feature
The Unknown Known
Dir. Errol Morris, 103 min, USA, 2013
Venice Film Festival - Golden Lion nomination
Songs From the Forest
dir. Michael Obert, 93 min, Germany, 2013
VPRO IDFA Award for Best Feature-Length Documentary
Cathedrals of Culture
Dir. Wim Wenders, Michael Glawogger, Michael Madsen, Robert Redford, Margreth Olin, Karim Aïnouz, 165 min, Germany, Denmark, Austria, Norway, 2014
Premiered at Berlin International Film Festival
Point and Shoot
dir. Marshall Curry, 84 min, USA, 2014
Tribeca Film Festival - Best Documentary
Waiting for August
dir. Teodora Ana Mihai, 88 min, Belgium, Romania, 2014
HotDocs Best International Feature Documentary Award
Rich Hill
dir. Tracy Droz Tragos & Andrew Droz Palermo, 90 min, USA, 2014
Sundance US Grand Jury Prize
Red Army
dir. Gabe Polsky, 85 min, USA, Russia, 2013
Opening film of the 36th MIFF
Visitors
dir. Godfrey Reggio, 87 min, USA, 2013
The Book
dir. Vitaly Mansky, author of the idea Aramyan Matevos, 86 min, Russia, 2014
Workingman's Death
dir. Michael Glawogger, 122 min, Austria, 2005
German Film Awards - Outstanding Documentary
Leipzig DOK Festival - FIPRESCI Prize
London Film Festival - Grierson Award
Yerevan International Film Festival - Grand Prix
Moana of the South Seas
dir. Robert Flaherty (1926), sound version by Monica Flaherty, 2K digital restoration by Bruce Posner (2014), 85 min, USA
World premiere of 2K restoration sound version
Beach Boy
dir. Emil Langballe, 30 min, UK, Kenia, 2013
Best Documentary - Tampere FF
Best Short Documentary - Karlovy Vary IFF
Joanna
Dir. Aneta Kopacz, 40 min, Poland, 2013
DOK Leipzig Youth Jury Prize
Planete + Doc film festival - Jury Special mention
DocuDays.ua - Jury Special Mention, Audience Award
Borscht, a Russian Recipe
dir. Marina Quintanilha, 18 min, Brazil, 2013
É tudo verdade, Sao Paulo - Best short documentary
All premiere screenings are in the 2nd Hall of the Festival's main center, the Oktyabr Multiplex. Reruns will bу shown in the Documentary films center where also workshops with jury members and festival's guests will be held.
To apply for information: